Velofix Windsor
Bike repair service for Windsor, Chatham, Sarnia and surrounding regions. We have an avid cycling community in the Windsor area and trails for every age and ability. We can train along county roads or tour our amazing wine country. The Chrysler Greenway Trail, an extensive crushed stone trail across Essex County, is great for long rides. Malden Park offers single track trails and hills to get your heart rate up. And finally, the Ganatchio trail and trails along the Detroit River are family favourites with places to rest, play or snack along the way.
Regardless of where you like to ride, Velofix Windsor can provide all of your bicycle service needs. We have a fully equipped Mercedes Sprinter van ready to adjust your shifters or true your wheels and everything in between. We even provide cycling gear and accessories. We employ only fully trained bicycle mechanics who are passionate about cycling and will ensure your next ride goes smoothly.
Meet The Owner, Steve Drouillard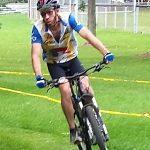 You will often see Steve with family and friends cycling around our amazing city streets and trails. With a background in finance and marketing, Steve has always had an entrepreneurial spirit. He has also been active in sports his entire life. He began riding to work in recent years which brought him back to the love of cycling he had as a boy. In an attempt to combine his business skills with his love of cycling, Steve found his dream job with Velofix. He would love to inspire you to ride more and help keep you riding by servicing your bikes in a new and innovative way. We all lead busy lives, why not call us to service your bike at a time and location that is convenient for you. Then you will be able to SAVE TIME and RIDE MORE!!
Sponsorship and Events
The Crazy Eight Trail Series is a friendly trail run series of approximately 8 km in distance. Four locations in Windsor during the fall/ winter season. I have been a participant in the last 2 seasons. The last race of this season, on Feb 17th, Velofix Windsor is a proud sponsor. We will be giving out some cycling related swag and spreading the news of our spring season launch! If you cannot make this event, we strongly recommend signing up for next year. It is always great family fun!
---
Latest News