We are a full-service mobile bike shop servicing the Mississauga area.
Mississauga is a fast-paced community that plays host to part of the famous Waterfront Trail. In addition, Mississauga boasts a large variety of bike paths and dedicated bicycle lanes to please cyclists of all types. We are here to service your every need in our fully stocked Mercedes Sprinter van. From commuter bikes, to road bikes, gravel and mountain; we service all shapes, sizes and vintages! Save time and ride more! Book with us today and you won't be disappointed.
Meet your Mechanic – Kevin Mahood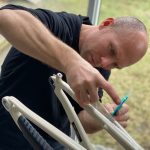 If you ride bikes and you don't know Kevin yet, you soon will! Kevin has an unparalleled passion for all things bikes and wants to help you throw your leg over your favorite steed and get riding! No matter whether you are just beginning your cycling journey, or you are an experienced rider with many miles under your shammies, he is all-inclusive and cannot wait to be of service.
Kevin's mechanical expertise started when he was a teenager, building and re-building cars and motorcycles in his hometown, Schomberg. He eventually went on to become a master truck and coach technician, but over the years, he realized his true passion was figuring out how each, and every part of the bicycle worked. Much to the dismay of his wife, he spends every free second reading about all the new bike tech and immersing himself in the world completely. Kevin has been steadily growing his bike mechanic skills over the last 20 years and is well versed in fixing "all the things" due to his wife's ability to break many components of her bicycles.
In his spare time, he still plays bikes, with his wife and two daughters. You can catch them out at many local mountain bike and cyclocross races, and even on a road ride out to Milton!